Compliance management isn't exactly known for being stress-free. For most companies, it's chaotic, stressful, confusing and full of frustrating requirements that don't make sense. That was true for Phoenix Financial Services, too.
Suddenly, a new client required Phoenix Financial to be PCI certified. With only two or three people on the compliance team, they were immediately thrust into an overwhelming rush to gain certification. The experience was a two-month nightmare of 16-hour days and mind-boggling requirements they didn't understand.
That's when Phoenix Financial turned to TCT for help.
A Compliance Management Tool That Actually Does What It Should Do
Phoenix Financial needed both a guide who knew PCI inside and out, and a compliance management tool that would untangle the chaotic mess they were struggling with. TCT gave them all that — as well as peace of mind.
Phoenix Financial's case study shows how TCT's consulting service and their compliance management software (TCT Portal) worked together to restore order and get them across the finish line.
"TCT Portal helps me to manage the process and to know that we're going to meet our compliance goals. And once the deadline comes and it's time to sign that certificate, I can feel comfortable [that we're ready for the audit]."

-Kim England
Chief Compliance Officer, Phoenix Financial
Download the case study and discover how ISM used TCT Portal to:
Gain control over compliance processes
Understand compliance requirements
Reduce workload and eliminate compliance-related overtime
Stop stressing about certification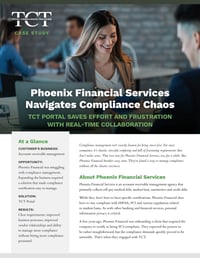 "TCT worked probably as many hours as we were, if not more, helping us get through it. They jumped right in with a shovel and helped me dig that hole."

-Jamie Hefty
CIO, Phoenix Financial

Why TCT Portal?
Total Compliance Tracking was born from first-hand experience with complex compliance engagements from every perspective. It didn't take long to realize the need for a dramatic and disruptive improvement to managing compliance engagements for operational efficiency.
The TCT platform incorporates our depth of expertise in managing compliance engagements, working with auditing firms and IT staff, oversight of infrastructure, development, change control, SDLC, and every other nuance of IT related experience you can imagine.
We've battle-hardened TCT through hundreds of engagements, led by our own team, our clients, and auditing firms who use the TCT platform with their own clients.