Online Business Systems (Online) was wasting hundreds of man-hours each year on compliance engagements, and they struggled to find a smooth workflow for their assessments. Every engagement was too complicated, and they labored to coordinate efforts internally and with clients.
Online's certified Qualified Security Assessors have performed hundreds of PCI assessments and PCI gap assessments. Yet, they were feeling stymied by the tools they were using to run compliance engagements.
That's when Online decided to try using TCT Portal to manage their client engagements.
A Compliance Management Tool That Streamlines Assessment Engagements
Online needed a comprehensive compliance management tool that would eliminate manual labor and frustrating workarounds, streamline client engagements, and make reporting quick and easy. TCT Portal gave them all that, and more.
Online's case study shows how TCT's compliance management software helped them solve their biggest compliance engagement challenges.
"What our assessors really wanted was a way to take their notes—and, as a process of taking their notes, be able to have the notes generate the actual final report."

-Sherri Collis
Director, PCI Services
Online Business Systems
Download the case study and discover how Online Business Systems used TCT Portal to:
Recover hundreds of man-hours
Use more efficient workflows
Improve team collaboration
Do faster and easier reporting
Lead more profitable engagements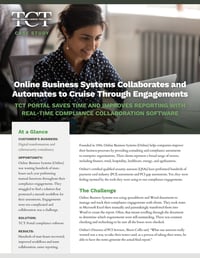 Why TCT Portal?
TCT Portal was built by people who have lived in the trenches of compliance, and it shows. The compliance tool's flexibility allows Online to streamline the compliance assessment process. "TCT has been such a lifesaver for us, because it's a huge timesaver," Collis said. "Once you start using TCT Portal, you don't want to use anything else, because it's so easy."
TCT Portal is an end-to-end software solution that automates all the heavy lifting of a compliance engagement. It was built by security and compliance people, for security and compliance people — incorporating decades of in-depth, hands-on compliance management expertise. The platform organizes every aspect of compliance engagements and typically cuts manual labor in half, across the board. TCT Portal serves any company subject to compliance, those serving those dealing with compliance challenges and Assessment Firms.
We've battle-hardened TCT Portal through hundreds of engagements, led by our own team, our clients, and Assessment Firms who use the platform with their own clients.