Compliance management isn't exactly known for its simplicity. For most assessment firms, compliance engagements are full of wasted time, painful processes, and inflated organizational costs.
That was true for Crimson Security, too...for a while. Crimson was enduring a clunky compliance management process that took too much time and created frustration. "It was a painful process. Painful. It took a lot of time," said Crimson Security COO Mike Conklin.
But Crimson found a way to eliminate the waste, cut costs, and enjoy a streamlined compliance management process.
Crimson Security Ends Cumbersome Client Engagements
Crimson needed a way to improve their efficiency and simplify their compliance management process. They were tired of wasting time, and they wanted a solution that streamlined the entire process.
This case study shows how Crimson Security used TCT's compliance management software to eliminate cumbersome work from their client engagements.
Download the case study and discover how Crimson Security used TCT Portal to:
Reduce reporting time from days to hours
Eliminate time-wasting redundancies
Create client accountability
Enjoy streamlined workflows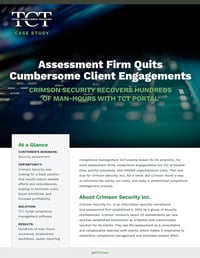 Why TCT Portal?
TCT Portal was built by people who have lived in the trenches of compliance, and it shows. The compliance tool's flexibility allows Crimson Security to work the way they want to work — during on-site or remote reviews and during report writing.
TCT Portal is an end-to-end software solution that automates all the heavy lifting of a compliance engagement. It was built by security and compliance people, for security and compliance people — incorporating decades of in-depth, hands-on compliance management expertise. The platform organizes every aspect of compliance engagements and typically cuts manual labor in half, across the board. TCT Portal serves any company subject to compliance, those serving those dealing with compliance challenges and Assessment Firms.
We've battle-hardened TCT Portal through hundreds of engagements, led by our own team, our clients, and Assessment Firms who use the platform with their own clients.